Some excellent revive music was made available again in the late half of 2010 & it looks as though 2011 is going to be a bumper year for repress vinyl. Here are some of my choice picks....
Cultural Roots - Ghetto People/Version - Germain Revolutionary Sounds 7"
Cultural Roots - Jah No Partial/ - Germain Revolutionary Sounds 7"
Cultural Roots - Devil Ites - Germain Revolutionary Sounds 7"
Cultural Roots - Mr Liar Man/ - Germain Revolutionary Sounds 7"
Cultural Roots - Mr Boss Man/ - Germain Revolutionary Sounds 7"
Cultural Roots - Drift Away From Evil/Version - Germain Revolutionary Sounds 7"
Cultural Roots - Devil Ites/Version - Penthouse 7"
Puddy Roots - When I Release -
Bingy Bunny - Coming Home To Zion
-
Archive
Pre 7 (1976)
An absolutely stunning roots tune with a ceaseless ghostly wailing behind Bingy Bunny's plaintive yearning of repatriation.The riddim is made up of a heavy plodding bassline with much clattering of hand drums in the mix, which are then brought to the fore on the version side.A truly hypnotic piece of music that carries the listener back to some kind of ancient smokey tribal gathering........
"How could you say, that this is my country
When there are nothing like a future plan
We work so hard in snow & hail
Come home, come on home to Zion High
Come home,come on home to Zion High
How could you say that this love is real
After all the pain i feel
You try to put me, in war & strife
You think i don't care about my life
Come home, come on home to Zion High come on come on
Come home, come on home to Zion High"
Now to find a clean copy of DJ Jah Lloyds cut on the riddim 'African Culture' on his Teems label.
"Don't be no man foot stool, brothers
Don't be no man foot stool , sisters
Get up & stand up on your own two feet
Stop laying down on the sidewalks of the street
Don't let them walk on you....."
intones the honey voiced Al Campbell in this 1978 Phil Pratt production.This track is also to be found on Al's album from the same year "No More Running" on Pratt's Terminal label.
A plea for unity amongst the ghetto sufferer's , begins with a strong organ swirl that resurfaces later in the tune. Most likely backed by The Revolutionaires, the version is propelled along by the insistant rim shots of drummer extrordinare, Sly Dunbar.
An excellent pressing & here's hoping we see many more gem's from Mr.Pratt in the coming year.
Black Slate - Wiser Than Before - Sir George 7" (1980)
Plenty of stabbing horns & a beautifully languorous delivery make this a real winner from the criminally hard to find Black Slate. Recorded in 1980 & reissued here on original keyboardist George Brightly's "Sir George" label it is quite difficult to find any info on this release.
Although lyrically it's a song of 'love gone wrong' it has a very rootsy backing that's just made for 'smooove' skanking in the dancehall.
At the same time this 7" was reissued we also got a Sir George 12" - Black Slate's cover of Little Anthony & The Imperials hit 'Tears On My Pillow' , although this is in no way in the same league as Wiser Than Before.
Dub version on the B side.
Jewels - Love & Livity - Leggo Sounds
7" (1979)
The Jewels were a vocal trio consisting of lead singer Glasford Manning (
aka
Porti) & harmony vocalists Benjamin Daley & Lynford Newland.
Originally released in 1979, Love & Livity is a heavyweight floor-shaker, made for that special time ,say around 3am when your brain is at it's most susceptible to these dark n heavy roots tunes,so favoured in the UK sound system dances.A pounding bass & drum extravaganza made to vanquish all weakheart babylonians.......
"
Love & livity a so Jah say, love & livity a so Jah say
...."
Slave Trade, also released in 1979 & again featuring the same etherial harmonies & heavy steppers beat that is just made for late night sound system play.
As you may have guessed from the title,this song deals with tribulations of African people stolen from their homeland,robbed of their religion & culture - taken away on a ship named S.S. Jesus.......
"
Children of the slave trade owwe, we are captives
They treated us, with brutality & they treated us, with no humanity"
Both titles are extremely well pressed with dub version on the B sides,
so no excuses!
Natural Roots - Children Of Jah - Only Roots
7"
Strangely this tune had never been released 'pon 7"...that is until now! Taken from the groups debut self-titled 1984 LP, it's in a rootsy laid back vein, the singer reminding me a little of Steel Pulse's David Hinds with delightful lead guitar weaving throughout, as a gentle keyboard bubbles underneath......one for thoughtful meditation.Dub version on the B side.
Bunny Wailer - Life Line/Big Youth - Black On Black - Solomonic/Dub Store
7"
With the second wave of Solomonic reissues from Japans Dub Store Records we are treated to Bunny's exquisite Life Line from 1972, which i first had the joy of hearing on the now sadly defunct Nighthawks Records compilation LP 'Wiser Dread'.
Bunny has a gentle dove-like singing voice which can soar into an achingly beautiful falsetto... "
Like a bird on a mountain or a fish in a fountain
..." which send shivers up your spine & is a direct opposite to his speaking voice, which is a deep baritone, & would be well suited for a cover of 'Ole Man River'!
Here he's backed by the Wailers band with harmonies by Bob & Peter "Throw out your life line & let your live light shine" lyrics to live by?...........perhaps.
On to the 'B' side & we get a dubbed up & fantasticly funky DJ cut by the one Manley Augustus Buchanan better known as the great Big Youth.
Over a stripped down rhythm with a chopping echoed rhythm guitar & jabs of piano,Youth expounds the virtue that every black man is a brother as well as sticking it to 'The Man'...
"See they talking about who is gonna die next, say the white man has got a god complex..."
all done in his relaxed jive talking, scat singing style. A truly wicked piece of music which has become a firm favourite to me in the large & diverse Big Youth catalog.

Maytones/Blacka Cool - Who Can't Hear Must Feel/ DJ Version - Commanda Music 7"
Not sure where this has originated from but thank Jah it has! Over Horace Andy's rumbling "Problems" riddim we get a beautiful vocal from Vern Buckley of the singing duo The Maytones in a biblical lyrical stylee. The other side is a DJ cut over the same Problems riddim by the mysterious Blacka Cool , heavy roots style, wicked & wild. Perfectly pressed too!
These cuts were originally released on the US or Canadian Commanda label titled "Judgement Day/Positive Loving" & was also issued on Commanda 12". Produced by Vern Buckley.
Nitty Gritty - Got To Make It/Version - (1991) Progressive 7"
Wicked Mr Gritty voiced & mixed around 1985 at Channel One just before sleng teng erupted . Produced by veteran African Brothers member Eric Bubbles
Prince Far I & Black Skin - Armageddeon/Version - Cry Tuff 7" (1976)
Prince Far I - I & I A The Chosen One/Version - Cry Tuff 7" (1979)
Prince Far I & Culture - Message From The King/Version - Cry Tuff 7" (1978)
It's was with great excitement that i waited for this latest batch of Cry Tuff repess to arrive, as i've been a huge fan of the Prince since my teenage years & you would have to be a very rich man to pick up original press 7's on this or the Hit Run label, that's if you could find 'em!
Two of these 7"s are off Far I's 1978 Virgin Front Line album 'Message From The King' so it's being able to finally hear the dub versions that is the thrilling part for me.
Message From The King features the vocals of the group Culture's front man Joseph Hill over a heavy rocker's beat, while Far I chants out his message in a deep thundering voice that sounds as old as creation.....
"Black Reggae Music Is A Message From The King"
indeed!
rock stone slabs of molten . Joseph & the Prince trade lines
Prince Far I aka "The Voice Of Thunder" aka King Cry Cry real name Michael Williams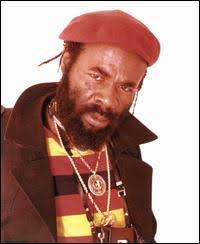 Rod Taylor - No One Can Tell I About Jah - Cry Tuff 7" (1979)